Tales From The Tent: Day 18- Insanity
By: Daniel
Published: 21 February 2012
No Comment
My fellow Crazies, after a long wait it is finally that time of year- it's tenting season. I will be bringing you a step by step account of my tenting experience for the next six weeks to give you an inside look at the most sacred tradition at Duke University- tenting.
17 days down
25 to go
12 first year students
1 dream
The day had arrived. It was a day of hope, fear, pride and passion. It was a day we had been waiting for all season, all year. It was a day where all eyes turned to an eight mile strip of road in North Carolina. Chapel Hill had become the epicenter of the college basketball world for the evening as Duke made the trek down Tobacco Road to provide us with another installment of the greatest rivalry in sports.
I'm not going to waste your time by giving you a summary of the action. I'm going to assume that if you are taking the time to read this that you are familiar enough with Duke basketball (which in this scenario would imply that you merely understand that Duke has a basketball team) to know what happened the night we played Carolina. It was a game that will go down as one of the all-time greatest battles in the history of the sport's greatest rivalry. All likelihood is my children and my children's children will be watching highlights of this game twice a year on ESPN. And when they see them I will be able to tell them about the night I was there when Austin Rivers hit that shot. If you're looking to find out the score from the game that night or who led Duke in scoring, you will not find that here. This is meant for me to share with you my story from this night, through the eyes of a Duke student.
I'm not going to sugarcoat it for you- the mood on campus the day of the game was not terribly optimistic. In a way this was understandable, we were just coming off of a tough loss to Miami at home and were going to face Carolina on the road. We also understood how talented Carolina's team was this year, while we had struggled with our consistency throughout the season. But the campus was abuzz in anticipation the day of the game, especially for the freshman class, who had never been on campus for a Duke-UNC game before.
Around 8:00 p.m., everything on campus seemed to shut down. Everything was still as the tension on campus reached its peak. Students gathered across campus in apartments, common rooms, and fraternity sections in anticipation for the biggest game of Duke's season. The first half was fast paced, which was to be suspected for a rivalry game such as this. The Blue Devils came out playing the best basketball it had played all season and built up an early lead before North Carolina mounted a run to end the first half and seize the game's momentum. Overall, the half left most students surprised and optimistic. Duke was moving the ball and hitting from outside, but was dominated inside by Carolina's superior front line.
The Tar Heels looked dominant at the beginning of the second half, extending their lead out to as many as 12. They held a consistent advantage throughout the half as they asserted themselves as the more talented team. Carolina was looking like the team many considered to be the odds on favorite to win the national championship at the beginning of the year, and it didn't look like Duke could do anything to stop them. With 2:35 remaining Harrison Barnes knocked down a jumper to put Carolina up 10, and the game seemingly out of reach. After being shut down for most of the first half, Barnes exploded in the second half on his way to 25 points. They were playing like an elite team, we were playing like a very good team, but for all intents and purposes this game seemed over.
The rest is the latest addition to the long and illustrious history of Duke-Carolina lore. A 3-pointer by a defensive stopper who had missed his first five shots of the game, a steal and transition three by one of Duke's previously struggling stars, an errant shot tipped in by Tyler Zeller and a jumper by Ryan Kelly put the ball in Austin Rivers' hands as the final seconds ticked down. He held the ball for what it seemed like was an eternity. Cool, calm, and collected, he stared down his 7-foot defender and had just one thought in mind. As the clock ticked below two seconds the room became alarmed, thinking that he might not have realized how much time was left on the clock. But his intentions were clear the whole time- there would e no tip-in, there would be no rebound, there would be one shot to decide the game, and this 19 year old freshman from Winter Park, Florida who had never before participated in basketball's greatest rivalry was going to be the one to take it. The shot went up and all of college basketball held its collective breath. When it fell through the net it elevated Duke to one-point win and Austin Rivers into college basketball legend.
The common room I was watching in exploded. We had just witnessed one of the most remarkable comebacks in the history of this rivalry. The feeling was euphoric as Cameron Crazies across campus embraced one another and tried to rehashed what they had just seen. Students flooded out into the East Campus quad and congregated in front of Bassett, the dorm in which the freshman basketball players live. A crowd of hundreds gathered as they erupted in chants of "Let's Go Duke" and participated in one of Duke's oldest traditions. Students from Pegram picked up the bench that sits in front of their dorm and threw it down on the grass in front of Baldwin Auditorium, threw some newspapers on top of it, and lit it on fire. Little did we know, our first bench burning was an illegal one, as the university had not secured a bonfire permit for this game. The bench was ablaze for about 10 or 15 minutes before campus police descended on East Campus and put an end to the impromptu celebration.
But the real fun was to be had on West Campus, so we headed over shortly after the fire began. Students had flooded into the middle of the quad there as well. The crowd was larger and rowdier as upperclassmen rehashed memories of Duke's 14-point comeback at home last spring. Many were unaware of our lack of bonfire permit, so there was some disappointment when nothing got lit on fire. The line monitors informed us that the team would be arriving back at Cameron shortly, so the mob made a mass exodus to the holiest cathedral in college basketball. Students crowded the entire bus circle as we welcomed back our heroes from their victory. Some even hung from trees. As the bus pulled up the crowd sprinted toward it. As the team began to step off and weave their way through the crowd, the whole mob erupted. The players seemed to be more amazed with the spectacle than we were. After taking some time to engage with the droves of students who had come out at 1:00 in the morning to see them return, the players retreated into Cameron.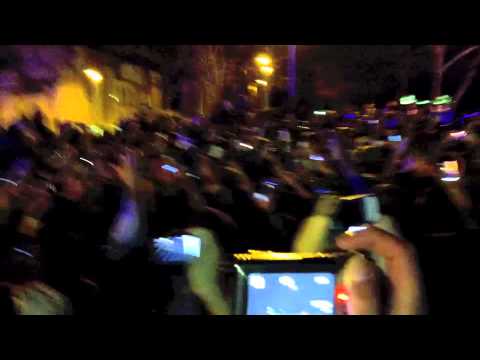 Most would think at this point the fun was over, but we simply ran around to the other side of Cameron to wait until the players walked out again. As the man of the hour finally emerged one last time from the tunnel, resounding chants of "three more years" echoed off the hallowed walls of Cameron Indoor Stadium. His name will certainly echo throughout its halls for decades to come. After all of the madness began to die down, we were all told we had grace for the evening and to go sleep away the rest of the night in our beds. We were all winners on this night.
Check out our original coverage of the game here.
Be sure to check out the rest of Dan's tenting diary! Links galore below:

Pre-tenting: It Begins
Day 1: Welcome to K-Ville
Day 2: From Dusk 'Til Dawn
Day 4/5: Into The Storm
Day 7: Losing Momentum
Day 9: The Other Side of Duke Basketball
Day 12/13/14: You Win Some, You Lose Some
Day 15: The First Taste
Day 18: Insanity
Day 26: When One Comeback Isn't Enough
Day 29/30: I've Been Dreaming Of A White Tenting
Day 35/36: Taking Out The Trash
Day 40: It Gets Personal
Day 41: One Force, One Fight
Day 42: Go To Hell Carolina
All content copyright Crazie Talk: 2009-2012.